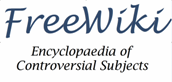 FreeWiki – Appeal for help:
For a long time many homeopaths and other practitioners of alternative medical methods have been annoyed by the entries in Wikipedia. To avoid being annoyed and to do something constructive instead, I have built up an internet platform called "FreeWiki - Encyclopedia of controversial topics" which makes it possible to present the wrong or distorted contents of Wikipedia in a factually correct and fair way.
It is a great chance to build a scientifically sound and ideologically free platform in the web independent of the prejudices and machinations of the Wikipedia. Apart from the journalistic projects (DemocracyNow!, KenFM, KontextTV) and the social media (HumanConnection) it will be another pillar in the alternative online portals that the growing critical public can access for information.
Beyond the role as a Wikipedia alternative, FreeWiki is also a good way to collect extensive homeopathic and alternative medical knowledge in a central location that will be easily accessible (and hopefully well known) and independent of certain organizations or operators.
It is obvious and part of the nature of a wiki that I cannot write the material myself, but that the project is dependent on the help of many. It is up to all of us to get involved and make a contribution.
That's why I'm calling here: Please take a look at the project, register as a user (anonymously is not possible, because otherwise the site will be hijacked again immediately, like Wiki4Cam was a few years ago), write me an email, wait for the activation of your editing rights and write good articles. I am happy to help with technical problems.
Please note: FreeWiki is supposed to be an encyclopedia. Opinions and personal statements do not belong there. We do not want a Wikipedia with reversed bias, but a fair and concise presentation of our contents. So every claim has to be proved exactly, quotations only with reference etc. - as should be clear.
FreeWiki is not yet activated for access of search engines, because there is not enough material in it yet; so it is only accessible via the address.
Share this appeal via: